Inventions and Patent Search Guide
Hello, I'm Ven, your patent search action guide. I'm the creation of a practicing patent attorney with many years of experience, and I'm here to help you understand the complex worlds of patents and inventions.
You can take the next step to protecting a new idea by finding related patents.
For most people, a preliminary patentability search can be used as an initial screen to determine if you can protect an invention. I recommend starting your journey using some of the free tools that I will teach you about on this web site.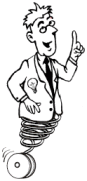 Step-by-step, you can do your own patent research:
determine whether a patent is the best way to protect your invention
search whether there is anything like your idea with detailed descriptions of free resources
dig deeper with great examples of US Patent Office queries that can be adapted to your invention
go global with a worldwide glossary of patent office resources
learn tips for getting a patent
Take the first step, "do it yourself," save money, and determine whether your idea has the potential to become a money-making reality.
Need a starting point! The US Patent Database that I prefer as a starting point for conducting a prior art search is free and managed by the U S Patent and Trademark Office.
What is a prior art search? This legal term used by patent attorneys refers to the process of finding patents related to an invention. "Prior Art" can also include information found in publications and other public documents. Any information in the public domain before you apply to patent your invention is prior art.
The pages on this website are intended to provide detailed information. Because so many resources and tools are available for patent searching, the process can be overwhelming. As you know, time is limited, and time is money. That's why I've created a CONDENSED ONE-PAGE GUIDE for doing your own preliminary US patents search.
You can download the FREE condensed guide by subscribing to this site. You will instantly receive a confirmation email with a link to download the guide.
If you plan to use a patent attorney for a professional patent search, this one-page guide tells you everything you need to know to do a preliminary quick-check of your idea beforehand. If your idea is still promising, you can let the lawyer handle the more complicated patent investigation and application process.
Recent updates and news about inventions, patents, and patent searching.
Finding recent inventions is easy with better understanding of intellectual property
How to conduct a free US patent office search of patents related to your inventions
Books, videos, and toys about Nikola Tesla inventions
Reviews and resources on the history of American Inventions
The definition of trademark and free eBook on how to file a trademark application with the U.S. Patent and Trademark Office
Help with U S Patents for Inventions
Would you like to share your knowledge about patent search? Great, find out how you can submit your story or tip here.