Get "Branding and Trademarks"
Subscribe to our free Ezine
Get the free eBook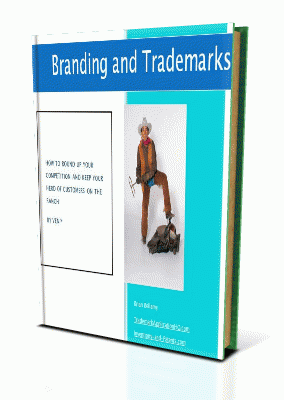 This eBook on branding and trademarks explains several key processes for building your invention business:
How to build a brand using trademarks to distinguish your business or invention from the competition

How to select a golden trademark that is easy to recognize and that is easy to protect from the competition copying and infringing

How to search for trademarks using the United States Patent and Trademark Office database and how to avoid infringement by clearing your mark prior to use and registration

How to file your own trademark application with the U.S. Patent and Trademark Office using a step by step process for electronic filing

How to monitor the status or your brand and trademarks using the TARR system at the USPTO web site to look up information and download communications from your trademark examining attorney
If you are ready to take your invention or business to the next level, then you will enjoy the many tips and strategies for protecting and marketing your ideas provided by our eZine. Plus, as an added bonus you will receive a free mini-eBook guide to protecting the brand for your ideas.
Here are a few of the helpful tips included in the book:
How to keep your customer
Why creating a brand is important
How to develop a brand
What is a trademark
Using trademark symbols
Do you Need to Register Your Trademark
Why you should register your trademark
How to choose a good trademark
The STRONGEST type of trademark
The Difference between fanciful, arbitrary, suggestive, and descriptive marks
Why Generic marks are prohibited
How to register a trademark
Why you should search before USING or REGISTERING a trademark for your brand
How to file a trademark application electronically
How to check the status of your filed trademark application
Subscribe Now to receive your free download
Return from this page for your free eBook "Branding and Trademarks" to our inventions and patent search guide home page.